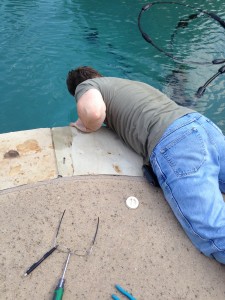 So your pool light is out. Could it be just the bulb? Yes, it could. And, YES, the guys at Elegance Outdoor Lighting can troubleshoot the pool light circuit, determine what the problem is and fix you right up! (We don't do free troubleshooting- it's hourly, by the way)
Sometimes it's the circuit breaker – Maybe it's the switch? We can troubleshoot your lighting to see what the problem is, and generally resolve the problem.
Here we see Marty hard at work on a hot summer day….He can usually get the bulb OUT easily enough.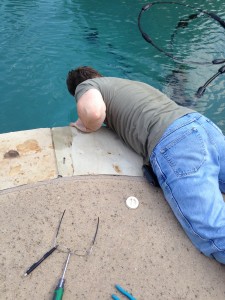 But he might need to get in the pool to put the new one back in! Or maybe he just WANTS a swim when it's 105 degrees in Colleyville, Texas!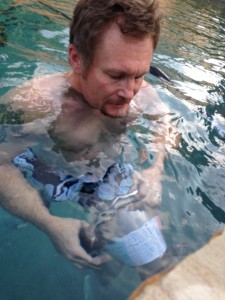 Pretty much every time we change the bulb, we also need to change the gasket seal around the bulb. This ensures a watertight enclosure. So don't be surprised when the service call shows lamp and gasket.
Give us a call, whatever your outdoor lighting needs, and we'll be there – to help you.