Downlight
11:23 pm - July 27, 2019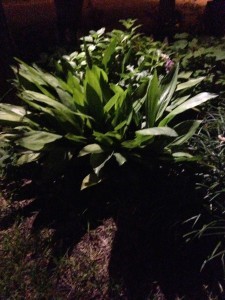 There's just nothing like a subtle and soft downlight to bring drama and enhance the garden. This is a Kichler LED fixture mounted about 15 feet up in a tree above this lovely Cast Iron Plant. The texture is brought to life and the garden is seen at night!
Uplighting is beautiful to graze a wall or enhance climbing vines. At Elegance, we want to enhance the textures and create a sumptuous environment of light, shadow and color. Our photo gallery shows several different designs that include downlighting as the main design concept.
We use a downlight any time there is a change in elevation. Like steps. You want to be able to walk safely around your property – a downlight will do that for you. No glare. A light from above. Path lights can be an excellent choice for down lights, as can lighting from trees, as in this photo.
It's important to consider, when planning to light from trees – where might there be glare? Is there a window that this is going to shine toward? That might not be the best choice in that case. A down light mounted in a tree must be carefully located so that no glare, or light trespass will occur. Light trespass is when a light is going where you don't want it to go – like into your bedroom window, or the neighbor's back yard.
Down lighting is a beautiful effect and can look beautiful and subtle. Lighting levels should draw your eye around the property- enhancing the views, moving from lower levels to brighter levels where there is a feature, or a walking path.
Look around your property and see if you could benefit from downlight.