I'm a military veteran. I served in the United States Navy and I feel wholeheartedly that our flag is a symbol of our country. Our freedoms. Our liberties. Our rights. I believe in America. I'm from Texas, so that's "'Merica." And I'm proud.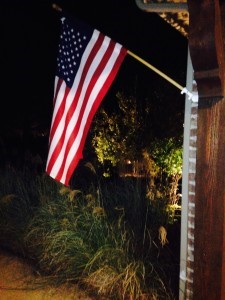 When the flag is displayed after dark, it should be lit. Good luck with those little solar jobs from the big box store or the do-it-yourself kit. The flag deserves the honor of proper flag lighting. Elegance Outdoor Lighting knows the rules of thumb for flag lighting.
When on the house standard, we can usually hit the flag with one spotlight. If you want it on all night, and the other landscape lights to go off – the circuit needs to be isolated to its own timer or switch for dusk to dawn operation. Our Master Electrician can run a circuit specifically for your flag lighting and control it with your porch light or on a timer.
As inexpensive as low voltage LED lighting systems are to operate, why not leave the whole system on dusk to dawn? Lighting provides security all night – who wants to come up to your well-lit home and try some shenanigans? They'd rather pick the dark one with NO lights on.
I'm a veteran, and proud to help you with your flag lighting. 10% off flag lighting for any and all veterans of the United States military. Any branch. Just say "ooo rah"