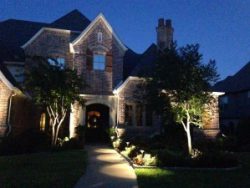 Landscape Lighting design is our specialty.
This beautiful landscape lighting design is done in all low-voltage LED, featuring Kichler landscape lighting products and designed and installed by the design duo at Elegance Outdoor Lighting, Marty Cowart and Alexandra Taylor.
"We want to achieve a cohesive lighting design that accentuates the property and brings out the best features," describes Marty.  "I want to make the homeowner proud to walk up and see his place."
Most of the design work is down at the Elegance office in Bedford, Texas, where they use lighting design specifications, product information and graphing materials to make sure every fixture is located perfectly. "We use photometric diagrams that illustrate the light output in lumens, the beam angle and spread for each fixture and lamp," explains Alexandra. "Many times the client wants to pick out fixtures that will be seen, such as path lights, and we make recommendations for which fixtures will result in the best lighting result." The fixtures that are not seen are all selected for their effect and reliability.
Fixture placement is important. "We want even lighting, subtle and beautiful," Alex explained. "The more subtle the lighting is, the more pleasing it will be to the eyes." A cohesive design has focus areas, transition areas, and subtle areas.
Glare is the enemy of beautiful lighting. Fixtures must be placed where they will light the surfaces, but angled so that there is no "hot spot," or bright place in the center of the light. "That's the real trick to the installation," Marty says. "Getting the light just right so that it is perfectly aimed – we call it 'focused' on the subject."
Whether it is on a home facade, a tree or a path, the light must be aimed and focused in the right place. "We used to accomplish this by using different halogen lamps, different wattages and beam spreads. It's been a change to look at everything in lumen output and degrees now. LED lighting has come a long way, and we are really embracing it now, Alex explained."
Elegance Outdoor Lighting has a custom lighting design process that begins with the very first phone call. "I enjoy talking with people," Alex says, "and I learn something from every new client." The initial conference usually takes place over the phone, then a design consultation takes place at the client's home. It's not a "free estimate," but an initial consultation is free. "Once we begin designing, it's really our expertise that we ask you to pay for," says Alex. "There are considerable calculations to get it right, and it's more than just so-and-so dollars per fixture." There are many variables in the design planning, and the designers at Elegance Outdoor Lighting do careful and custom landscape lighting design. 
Call 214-460-5956 today and talk with Alex about your custom landscape lighting design.