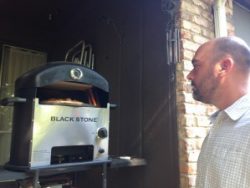 The latest outdoor kitchen gadget that we tried is a pizza oven! Sometimes we are just lucky, and our clients let us try out their culinary experiments. This is awesome. It bakes a pizza in – like – 5 minutes!
It doesn't require power, this one runs on propane.
But if you do need a 120v GFCI outlet with an in-use cover -Yes, Marty can install that for you! At Elegance Outdoor Lighting we have a Master Electrician on staff, and access to a host of talented people an products. Nothing is impossible! Pizza Oven!!